the noah of genesis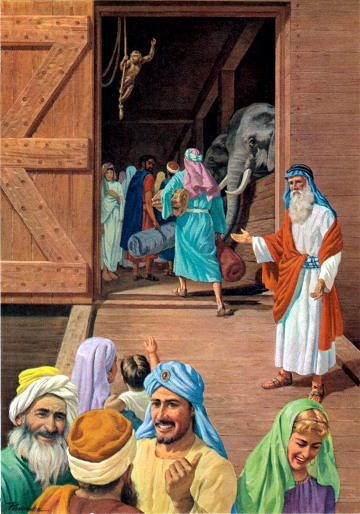 We're all familiar with the story of Noah and the Flood, which appears in the Biblical book of Genesis.
God saw the wickedness of man, and was angry at so much evil. He told Noah to make an ark and put two of every animal on it. The people where Noah lived, not believing there would be a flood, mocked him and his family for making the ark. But, as the flood was coming, and Noah's family was getting on to the ark, those same people begged to be let on. After forty days and forty nights of rain, the flood receded, the ark landed, and Noah's family and all the animals got out. God made the rainbow as a sign, so that man will always know that God would never destroy the world again.
You may know the above story, but you don't know it from the book of Genesis. Every sentence in that paragraph comes from the popular imagination and not from Scripture.
According to Genesis, when God saw man's wickedness, He was sad — He felt regret that He had made man, not anger.
Noah was told to bring in 14 of every clean animal — and 2 of every unclean one.
There is no mention that Noah's neighbors mocked him, or that they disbelieved him, or that they begged: in fact, there is no mention of them at all.
It did rain for 40 days and nights, but Noah and crew floated around for months and months, and then when things dried out and they landed on high ground they spent more time waiting around before disem-arking.
And the rainbow was not a sign made for man. It's a sign for God. In making the covenant, God never says what we should think when
we
see the rainbow; instead, He says that it's there to remind
Him
of his promise. And, for the record, the promise is that He'll never destroy the world
by flood
, not that He'll never destroy it. (Though, to be fair, before the actual covenant is given, He mentions that it will never be destroyed period. It's just that when He gets around to making the actual promise He inserts the most staggering escape clause ever.)
So, now you know.