paris journal 4
FRIDAY, APRIL 15
Feeling much better after twenty-four hours of scrupulous rest (and Catherine's ministrations, which included Gretacare), I decided that today's museum plan should stand. Catherine had suggested that I rest today too, but I figured I'd be sorry if I didn't come along.
It was exactly what body and mind needed: the Orangerie and the Orsay, two of the coolest museums in the world. Sure, you've got the Louvre, but these two smaller museums are sheer pleasure. You can even get a double-header ticket, which is exactly what we did.
Advice: go to the Orangerie first. The Musée d'Orsay was incredibly crowded when we arrived, with a forty-five-minute line snaking fruitlessly back and forth and back and forth in front of the entrance. I couldn't stand the thought of it, and I'm afraid I insisted on tooting across the river to the Orangerie to see if the situation was better: a gamble, I know, because after all we could have simply lost time and gained nothing. However, there was no crowd at all there. We waltzed in, got the tickets, enjoyed a leisurely time there, and then returned to the Orsay, zipping straight past all the poor souls stranded in Leviathan and going in the Entrance For People Who Already Have Their Tickets. Ahhhh.
The museums themselves were, of course, everything expected. Orangerie: small, intimate, a few giant late masterworks above (those sprawling late waterlily paintings by Monet), a bunch of minor works by various Impressionist/Symbolist/Modernist artists below.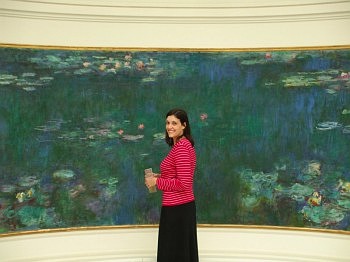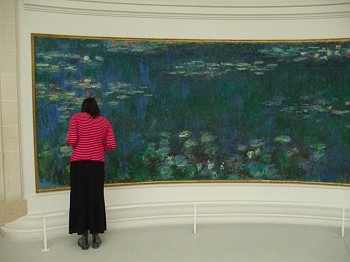 Orsay: an extensive and varied collection of Impressionist paintings, many of them instantly recognizable, and other art and sculpture and design, in a stunning train-station setting.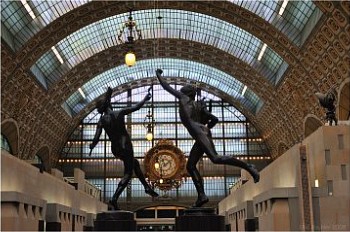 We strolled and gawked and conversed and kissed and strolled and gawked some more.
Then we strolled over to the Louvre to say hi to all the folks there. Over a sandwich, we enjoyed the relaxed international crowd and the beautiful weather before walking through the budding and blooming Jardin des Tuileries toward the Champs Elysees. All in all, if you're going to get your shoes completely coated with beige dust, this is the finest way in the world to do it.
SATURDAY, APRIL 16
Some of our best times for exploring the city have been in the evening. Before noon, the usual rhythm has been that we get Greta up and play with her, then maybe one of us takes her along do a little shopping around the corner and greeting the day, then she naps. Later, we get up and prepare a bit more for the day, eat some lunch, the girl naps again, ... so by the time we're ready to go out for any length of time, it's already afternoon.
Having a baby with us, then, has changed our travel schedule to some degree, and yet not really changed it much at all. It's just that, before, we were sleeping in all that time.
This evening, we strolled around Rue Daguerre, one of the most delightfully simple pleasures in Paris. Daguerre is a pedestrian street, an old narrow street that was never widened, a place alive with calm energy, where you shop and do your daily stuff and gather at the many cafes and watch the people go by shopping and doing
their
daily stuff. The guidebooks mention other streets like this as ones to be sure to see if you want a slice of true Paris life; this one is so untouristy it rarely gets mentioned (though Rick Steves apparently mentions it, precisely
because
it's so untouristy).
We sat down at one of our favorite cafes, arrayed ourselves on the front row for easy viewing and easy escape with the girl if needed, and had a coffee (an espresso served in a delectable turquoise demitasse with gently scalloped edges) and a hot chocolate (served with a mount of whipped cream and dusted with dark chocolate powder). A note: you can tell your hot chocolate is going to be good when it comes with a couple of cubes of sugar on the side. It's an indication that the drink isn't going to be too goopy-sweet.
We talked, we laughed, we cried (OK, only one of us cried, briefly, before being taken around on a quick walk). We watched, we got watched. We saw the evening into dusk and the dusk into nightfall on a pretty darn perfect Paris evening.
SUNDAY, APRIL 17
Palm Sunday! The sun is shining! The breeze is blowing! To a Texan eye, the bright bright day means heat; to a Parisian, it means the edge is taken off the cold and you can walk around without a coat on.
This was the day we'd set aside for Sacre-Coeur, that towering, beautiful hilltop masterpiece. I just learned part of its secret: it's made of travertine that constantly oozes calcite, so no matter how much pollution of various kinds hits it, it will always shine white over the city.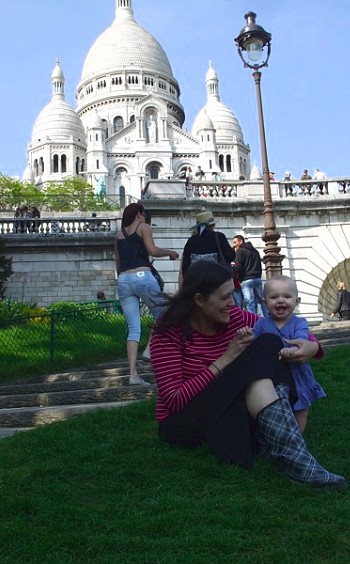 Everyone else had decided that today was a great day for Sacre-Coeur as well. The place was mobbed. I loved it. People milling around, lounging on the steep green hill, playing with kids, kissing and hugging, engaging in ten-second-mock-soccer games, eating and drinking, and enjoying the fantastically beautiful day.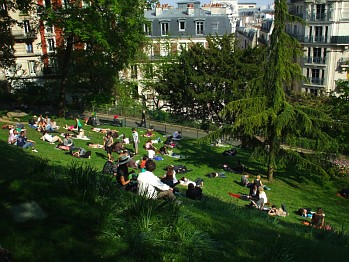 Inside, the place was packed (it being Palm Sunday), but there was enough space to go in and breathe the incensed air and see the sternly uplifting Romanesque arches and dome, the sun streaming through the incense in Spielbergian shafts, the giant mosaic of Christ looking out onto you and Paris and all the world.
Sacre-Coeur sits atop Montmartre; the famous bohemian district named after it is spread out below. We walked along, looking at the street art. Greta fell fast asleep through the rumble of her stroller over centuries-old cobblestone. We had a nearly-too-strong Grand Marnier crepe. I tucked into a tiny piano bar and performed for ten or fifteen minutes, my arms and hands and brain grateful for the brief workout.
Back on level ground, we made our way through the dirty streets toward the station; the multiethnic neighborhood is a veritable souk of exotic smells; we craved it all.
MONDAY, APRIL 18
Friends-from-all-over day. Sarah Beth arrived in the morning from Nashville, where she'd gone for fittings and showers; Mary Love arrived in the evening from Zurich, to stay with her sister for a month; and in the afternoon the fashion designer Marisol Deluna took time out of her whirlwind international schedule to meet us at Les Deux Magots. We sat facing St-Germain-des-Prés and talked about the crazily looping circles of friends we have in common (she grew up in San Antonio), and about everything else under the sun. For the record, Catherine's pot of chocolate was thick as jam and tasted heavenly.
Later, Marisol gamely walked with us back to the Denfert-Rochereau district, where we said farewell to her and hello to Mary Love. An evening of wine and pasta with mushrooms (and beguiling elderflower soda) followed.
TUESDAY, APRIL 19
Mary Love and Catherine and Greta and I scooted over to the Ile to pay a visit to Sainte-Chapelle. This is the tall Gothic palace chapel whose stone walls serve entirely as a latticed framework for one of the most stunning stained glass window arrays in the world. It was built in the mid-1200s, right at the height of the art of stained glass. I'm always amused that the experts say it's all downhill from there — you know, when it comes to stained glass the 15th century is just
too late!
— but this chapel would be Exhibit A.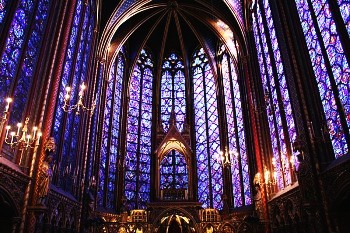 (OK, the blazing St. Vitus's in Prague is Exhibit A, but Sainte-Chapelle is Exhibit B.) The setting sun streamed through from the west-southwest, setting fire to all the reds in the windows. The place is small — maybe a tenth the size of Notre-Dame or smaller — but the effect is overwhelming. I wandered back and forth in the vertiginous heights, on the brink of tears the whole time, muttering and marveling that human beings could ever have come up with something like this.
Back at the house, Sarah Beth decided she wanted to try out that mustard-cream-sauce recipe. She and Mary Love proceeded to whip up a feast comprised of veal and pasta coated with the sauce, and a fresh salad with an altogether hotter mustard dressing. What a meal! And so very French. We dined like royalty.
WEDNESDAY, APRIL 20
A relaxing final day in this beautiful town. Mary Love again joined us, this time for the Champs-Élysées and the Arc de Triomphe. We walked all up and down, stopping in at Cartier (where Greta charmed the charmers) and Luis Vuitton, and taking in the sun and sky and gently crowded boulevard.
That evening, a final item on the Paris agenda: absinthe. We trekked to a cafe that specializes in serving it the traditional way. First, though, a satisfying meal of tortellini and butter and herbs. Then, time for the Green Fairy. Our gal brought over three cups of straight absinthe, then placed a large Art Deco samovar-like thing of water on the table, with multiple spouts. We each (except for Catherine, who cannot abide the licorice taste of it) arranged a cube of sugar on an ornate silver absinthe-sugar-cube-holder, letting the water drip from the spout over the sugar and into the absinthe, clouding it up into a beautiful jade green.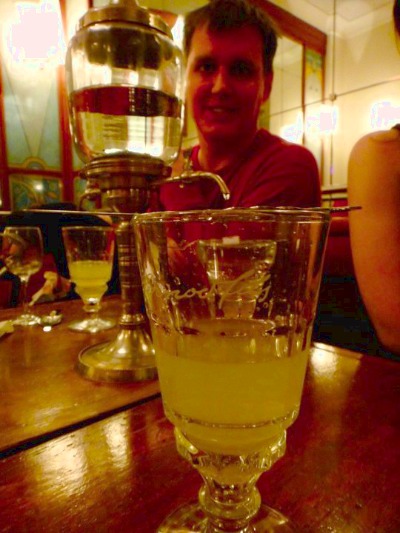 When the cube is fully dissolved, you have a perfect mix. We toasted and tasted: just delicious! Light and airy and not-too-licoricey, with a warm aftertaste. If there's a danger to the stuff, it's that it is so delicious that it might whap you; we agreed that it's easy to see how someone could unwittingly wind up under the table. Nonetheless, we ably walked out and returned to our lovely bright yellow apartment, where we enjoyed one last taste of Catherine's Official Favorite Thing About Paris: Grand Marnier crepes.
· · · · ·
What a delightful, beautiful, fun, entertaining, elegant trip! Special thanks to Sarah Beth, our hostess and guide, for her hospitality, good nature, and helpful connections. It was officially our first family vacation. Greta now has a stamped-up passport and several thousand miles behind her. We have a load of memories that will stay with us a long time.