the princess and the pilgrim 1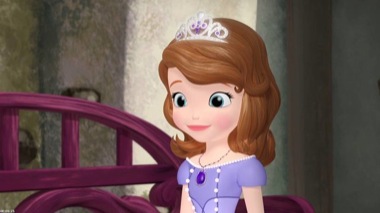 Fairy tales have been about princesses and castles and witches and peasants and kings and queens and shepherds and forests all along. And when I say all along, for once, that's not a hyperbole: Little Red Riding Hood is thought to be 2600 years old or older.
Many of our Northern European fairy tales, the ones English speakers know best, are Christological: the hero defeats the evil one (at some cost to himself), and redeems the endangered bride to live in happy eternity. The despised pauper discovers she's the bride of the prince.
Recently we've had a series of princess tales that strikingly echo pilgrim narratives. The pilgrim, discovering he or she is a child of God, goes through a series of challenges and tests, symbolizing the trials of the Christian life, before reaching the final goal, symbolizing the soul's passage into heaven.
Pilgrim's Progress
is the ur-example in the Christian world, a redemption of older journey tales like the Odyssey. For two centuries it was second only to the Bible in popularity. Generations of authors were weaned on its structure and language, which worked their way into our general culture and are still with us.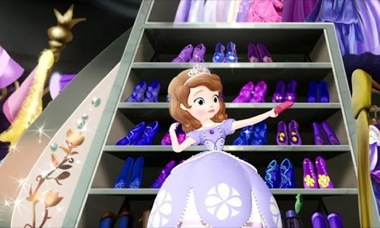 My daughters have, with every girl their age in the civilized world, been devouring
Sofia The First
, Disney's newest princess franchise. Alone amid kid entertainment's avalanche of numbers and colors and lessons,
Sofia
taps into deep mythos in the best Disney tradition. Thankfully, nearly alone amid the avalanche of cheapo production values,
Sofia
also feels luxurious, with depthy animation and a full (though mostly synthetic) orchestral score, supervised by music wizard Richard Sherman, and featuring Broadway-style (and -quality) songs.
With sparkling stars like Cary Elwes, Mandy Moore, Hugh Bonneville (of
Downton Abbey
), Sean Astin, Megan Mullally, Isla Fisher, Kiernan Shipka (of
Mad Men
), Robert Morse, Lea Salonga, Catherine O'Hara, Vivica Fox, Chris Parnell, Shari Belafonte, Alyson Hannigan, Phylicia Rashad, Tracey Ullman showing up as guest stars, and the superb Tim Gunn serving as Sofia's fussy-but-tender butler and mentor Baileywick, it's more like a big Disney feature than a TV show. (Of course, they figured out that it's essentially a 30-minute commercial, so they poured resources into it. Every once in a while in American TV, that calculation turns into first-rate entertainment.)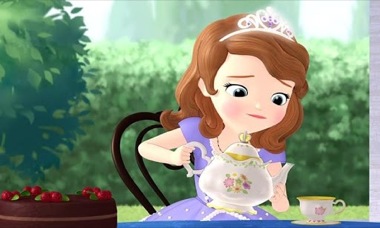 But the main thing is the main thing: Sofia, a peasant girl whose widowed mother marries the widower king, is now a princess. She must now be caught up to speed on all things royal. Sincere and true, Sofia (voiced by the perfect Ariel Winter,
Modern Family
's biggest, though modest, star) is both pilgrim and
Pippa
, learning the ways of the castle and the expectations of a princess, while injecting light and life into her sometimes corrupt surroundings, particularly her spoiled stepsiblings.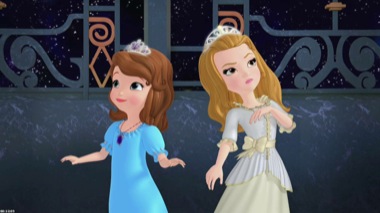 One of my favorite episodes, "The Princess Test," tells a familiar story. Sofia is in a kind of Hogwarts-for-royalty course, along with her fellow kid princesses from various lands. (The stories all take place in the Ruritanian kingdom of Enchancia. The other kingdoms cleverly cue to real-life world regions.)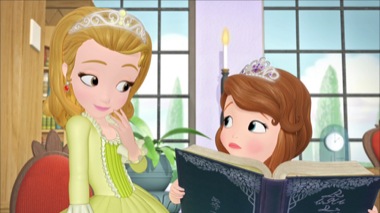 Today is the day of the Princess Test. All will show what they've learned. At the library, Sofia is flummoxed by all the rules and regulations. The other princesses, born to it, have absorbed much. Each tells Sofia that it all boils down to something, different in each girl's account: just flutter your fan properly; just keep your dress immaculate; just curtsy; know the dance steps.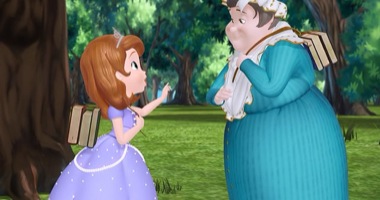 On their way to the ballroom, the librarian, Mrs. Higgins, asks for help. Her book-cart has broken down. The other princesses proceed to the test, but Sofia stays by to help. It turns out, though, that Mrs. Higgins's house is further than she thought. Then the bridge is out, so they have to go the long way. Time stretches on; the test is surely half over. We see the other princesses worry about Sofia, while also choking at even the tests that should be showing their strengths. Meanwhile Sofia loses or ruins everything she needs for the test: her fan, her books, her clean dress which finally gets spectacularly muddy.
At last, they reach Mrs. Higgins's house. But ah! it magically fades to show that they are in the castle ballroom. The others had ignored the old woman in need in their zeal to get to the test; but the old woman in need *was* the test. Sofia wins a golden prize, for a true princess helps people, even if it means giving up something important.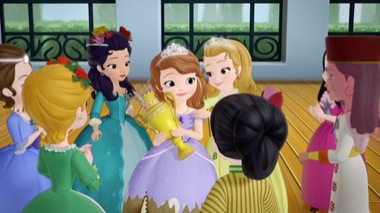 It's not just a powerful retelling of Jesus of Nazareth's forecast of Judgment Day: the episode pulls in well-digested and sound references to the Good Samaritan, the letters of Paul, the book of Micah, and more. This can't be accidental. Not in Disney.
The soul, like our heroine, is beset by Pharisaical rules and regulations in the great library of Religion; finds tidy, trivial definitions of success among differing sects; and is above all tempted to put rules before the treatment of people. The other princesses, in their side-story, show the futility of Law — and the redemption that Grace brings, with Sofia's often-mean-girl sister playing the encouraging Good Pharisee of Acts. Then the finale, Matthew chapter 25: a little-girl gathering of nations. The author surprises both the worthy and the unworthy by revealing that when you ignored or aided the down-and-out you ignored or aided the test-giver in disguise.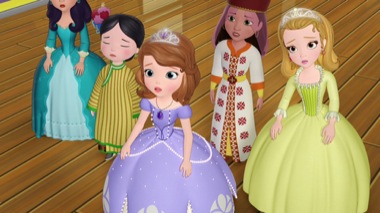 Sofia doesn't pass all such tests, of course. Nor does every episode bring this level of moral and spiritual depth. But each episode knocks itself out trying, and more often than not surpasses much children's entertainment in the process. More than once, Greta has paused the show just to revel in the sheer beauty and visual imagination displayed on the screen; more than once, she's rewound to hear a particularly beautiful melody or orchestration again.
All the while, lessons are being taught, with Bunyanesque eye, around the pitfalls and challenges of life in our journey to adulthood — boys and girls.
Disney goes in and out of periods of firing on all cylinders. Right now they're in a season of pop perfection. Ride the wave while it lasts.