i write the songs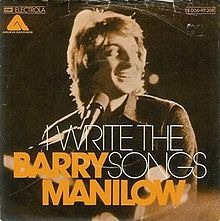 The musical I've been playing on (a high school production of 'The Little Mermaid') has some harmonic and melodic material that's indebted to Bruce Johnston's "I Write the Songs." (That up-to-dating of the secondary dominant!) We associate the song with Barry Manilow, but there was a little race to get the former Beach Boy's song into the public ear. Within a few months, Manilow, David Cassidy, and the Captain and Tennille all put out versions of it. Manilow wasn't first, but he won — his arrangement and voice sell it really well, no doubt.
Cassidy is the weak brother here. I like his folk-little-bro style usually, but this time it doesn't work, and whoever did the arrangement didn't know what to do with the sophisticated harmonies.
Tennille, though! Dang! Go Toni! I remember that this song was on the only album by them that I had, the one with "Love Will Keep Us Together." The backing vocals have a cheesy choir quality at times, and the mix suffers, with the awful dead Seventies drum set too far forward, but I kind of like the fact that there's no slowdown and key change from "worldwide symphony" into the chorus: they just bam into it. It works. And all those slidy harmonies rendered by vocals remind us of Johnston's Beach Boy pedigree.
Of course, no discussion of it is complete without mentioning Toni Tennille's voice and musicianship. Man! Especially on the verses she just steps out so soulfully. You believe that she's the Eternal Mother of Song when she sings it. (For the record, Johnston said that he always thought the song was spoken by God, the ultimate author of song.)
Ultimately, though, I guess the audience wanted Manilow's soaring climaxes. His verses don't do anything for me (nor does his unconvincing bridge: no one ever made anyone want to dance or take a chance *less* than this; and the "rock-n-roll" is an outdated Hollywood stab at Beatlesyness), but when he gets into the final buildup and out chorus, the solid arrangement and his clean but rich voice provide just the right amount of grandeur.