heart and soul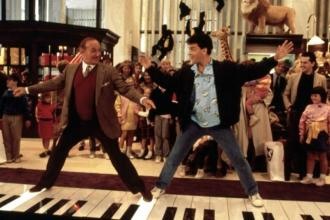 As I sometimes do, I'm thumbing through Alec Wilder's terrific book
American Popular Song: The Great Innovators, 1900-1950
. He mentions Hoagy Carmichael's song "Heart and Soul," which you'll recognize as the song Tom Hanks and his mentor play on the giant piano in the movie
Big
, but undoubtedly you knew it well before that. Wilder actually goes into this.
What does fascinate me and has never been explained is how it came to be more popular with small children than "Chopsticks." I have never known a home with contained both children and a piano in which "Heart And Soul," without the release, was not the principal pianistic effort. And it was always for at least three hands. The rhythm was almost always a form of "shuffle" rhythm and more often than not the bass line was scalar and in dotted quarter and eighth notes.
The copyright date is 1938, and I first found children experimenting with it around 1950. Even though it had been a great hit, it never did become much of a standard song. So where, oh where, did the children come across it a dozen years later? How did it manage to spread over the face of the nation? If there is an even faintly reasonable answer, I'd be very grateful for it.
I've often had the same question. What could possibly be the explanation?