mary, did you indeed know?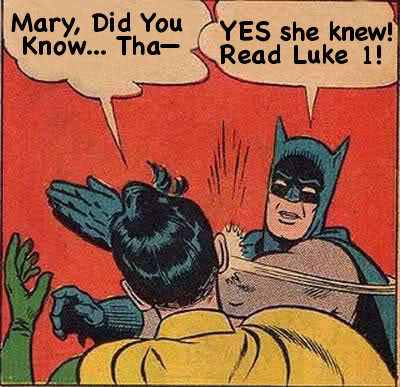 A friend posted the above — funny! But it got me to thinking. Maybe this song deserves a line-by-line.
--------
Mary, did you know
that your Baby Boy would one day walk on water?
Nope, she had no way of knowing that. There is no Old Testament prophecy concerning it, and Gabriel made no mention of it.
Mary, did you know
that your Baby Boy would save our sons and daughters?
A solid yes on this one. But we'll give it a bit of understanding since it's very very obvious that they were just trying to find a rhyme for "water." ... Come to think of it, that's double points OFF, because there is no excuse for a labored rhyme.
Did you know
that your Baby Boy has come to make you new?
At last, an interesting question: what *was* Mary's understanding of Moshiach? Did she really see that she herself would enter into redemption this way?
This Child that you delivered will soon deliver you.
Just a restatement of the above, really. But a chance to dig that paradox in a little deeper just in case you hadn't noticed.
By the way, the gleefully blammy exploitation of paradox owes much, in a that-blow-your-mind-guy-in-your-freshman-dorm kind of way, to John Donne's "La Corona," a wreath of poems that contain all sorts of linguistic games but center on the richly paradoxical fact of Christ's incarnation: "Oh, to vex me, contraries meet in one!"
The great line "Immensity cloistered in thy dear womb" always gets me trembling and teary-eyed.
Mary, did you know
that your Baby Boy will give sight to a blind man?
Again, sorry Batman, she could have no way of knowing that. That said, he actually healed nine blind men. That scans just fine, but of course "men" doesn't really rhyme with "hand."
*That* said, "daughters" doesn't really rhyme with "water," so.
Mary, did you know
that your Baby Boy will calm the storm with His hand?
Also, the way the melody and rhythm happen, the accent is on the "His" of "His hand," which doesn't sound right. Nonetheless, nope, she didn't really know that.
Did you know
that your Baby Boy has walked where angels trod?
Aha! Another interesting one! Did she know that? What exactly does a peasant girl in Nazareth believe about heaven? Is she, in other words, more Sadduceeical or Pharisaical? Does she believe that her son-to-be coexisted with God from the start? (Almost definitely not.) Does she believe that he has indeed walked where angels trod? "Trod?" Songwriters! You wouldn't really use the word "trod" at all unless you-know-what-word is coming.
When you kiss your little Baby you kissed the face of God?
It's almost guaranteed that this Nazarene girl did *not* see Moshiach as a person of the Holy Trinity, since the doctrine of the Holy Trinity didn't arise until much later.
Mary did you know.. Ooo Ooo Ooo
Blessedly, Mary did *not* know anything about this modern tic in music.
Hmm... wait a second. Even as I write this I think that probably the "Ooo" is an older component of song than language itself. Hmm!
The blind will see.
The deaf will hear.
The dead will live again.
The lame will leap.
The dumb will speak
Alex says, "Sorry. Not phrased as a question."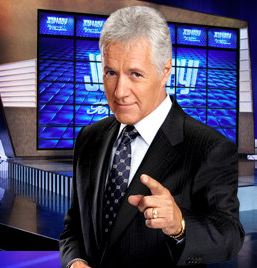 Nonetheless, did she know these things? One could argue that if she really knew her prophets she might have encountered passages in Joel and other Messianic texts that touched on these things. That's a bit of a stretch, though. And she was far far more likely to have an intimate knowledge of the Torah (and its interpretations) than of the prophets. Still, it's iffy.
The dumb will speak
The praises of The Lamb.
Now we're getting into end-times prophecy. Sorry, folks. It's unlikely that she knew, unless Gabriel said a bunch of stuff that didn't go down in the book.
Mary, did you know
that your Baby Boy is Lord of all creation?
Doubtful — this goes back to the concept of the Triune God, which doesn't begin to be revealed explicitly until roughly 31 years later.
Mary, did you know
that your Baby Boy would one day rule the nations?
A solid yes: it's been announced that he'll be the Messiah. She very likely envisioned him ruling the nations, albeit in a temporal way that we now know was limited.
Did you know
that your Baby Boy is heaven's perfect Lamb?
This particular Lamb mention gets a few more points than the other one, simply because she may be familiar with that great passage in Isaiah.
The sleeping Child you're holding is the Great I Am
Blasphemy! (That's at least how she'd respond if someone told her that.)
Taken as a whole, I'd say the overall answer here is a soft "no." Robin, it's time to slap back.