everything old was always new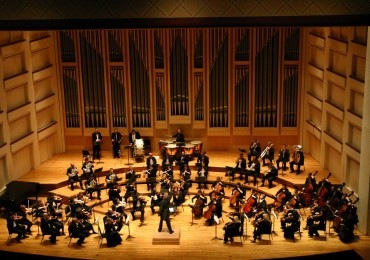 Here's a way of getting a handle on a deeply odd fact about our culture: suppose someone came to you and said, "I'm making a movie about a half-man/half-robot who battles evil aliens in outer space — what kind of music should be on the soundtrack?" Think of the choices at your disposal at this point in history: hard-edged rock, hip-hop, computer-generated electronica ... but of course you know the overwhelming answer to that question in American cinema. It's the symphony orchestra, mostly unchanged for a couple of centuries.
Like those other inimitable gifts of the West to the world, the piano and the suit, the symphony orchestra keeps on getting talked about as if it's obsolete and passé. And yet it keeps on getting used. Why?
Think of the way people talk about suits. Constricting, old-fashioned, not with the times. Now look around: have we lost any appetite at all for seeing our talk-show hosts, sports announcers, politicians, bachelor-contest gladiators, and news anchors (if they're men) in suits?