the importance of shoes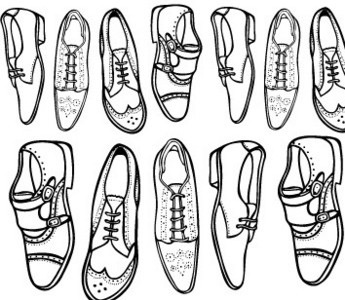 A friend sent me this
article on the importance of shoes
. Too many men simply pay no attention to their shoes, either in buying or in keeping them up. My dad always wore good shoes, bought them for me, and showed me from an early age how to use a shoe-shine kit and keep my shoes looking spiffy. (My mom has fond memories of her German father doing his shoe-detailing routine daily. It was part of his entire air of rectitude.)
I have to say that once we decided that Greta and Clara were going to be our only two, I had a moment of sadness that I'd never bring up a son to enjoy all the accoutrements of manhood — the necktie knots, the importance of shoes and collar stays and good tailoring — that I always enjoyed. Of course, there's no guarantee that my son would value those things, so there's no sense sentimentalizing it.
The article goes a bit adrift when bringing in the choice of shoes that seem to the author inappropriate. After all, I've seen rhinestoned sandals with cocktail dresses that were a delightful choice. One gets the idea that this author would have disapproved of the first gents to wear tuxedos, though no doubt he does himself now. And he's on slippery ground in calling for hiking shoes for hiking, dancing shoes for dancing, and presumably never any mixing or borrowing: in a society in which a man wears a lounge suit to work and then comes home and changes into laboring-men's work clothes to lounge, that's a bit tone-deaf, right? If sailor suits were only used by sailors when sailing, we'd lose one of the icons of childhood, not to mention one of the icons of cheerful femininity.
But he's on much firmer ground in exhorting us all to enjoy our black lace-ups and take care of them. I've had my Florsheim Imperials for coming up on two decades and they look spectacular. It's my firm conviction that one of Greta's or Clara's sons will wear them with joy, just as I wore my own grandfather's gorgeous kangaroo-hide boots ... for dancing.