life and life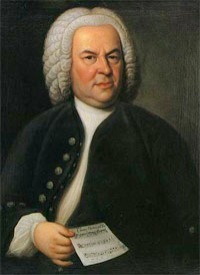 I was just talking with someone about the fact that Bach had 20 children. She said, "Well,
he
didn't have them." Assuming that he didn't take as active a role in their upbringing as their mothers did, it's easy to imagine that if it had been up to the ladies there might not have been so many.
On the other hand, only half of those twenty made it into adulthood at all. It was a perilous time, almost unimaginable to us now. Bach lost both his parents when he was nine years old, and lost half of his children early: ten of them died. What does it do to the soul of a parent to see that much death? What does a parent think at that child's birth? Our joy at a kid's birth is by this point nearly unalloyed by anxiety, the kind of anxiety that kept another composer nameless: Billy Strayhorn's mother didn't name him till he was five.
Of course, you have no idea what someone is going to contribute to the world, even after that person has been gone a while. Dietrich Buxtehude was assumed by many to be more influential than Bach, but fortunes rise and fall. Bach's fame lasted and spread to some small extent, but it wasn't till nearly a century after his death that he began his delirious ascent, which shows no sign of abating. The Beatles bragged that they were more popular than Jesus, but they were short-sighted in that claim. Here in 2012, looking back on it all, it's unavoidable that Bach is far more popular than the Beatles.
John Eliot Gardiner just released his twenty-second volume of Bach cantatas, part of his gargantuan effort to do them all. And his way of recording them was compelling: beginning in Advent, he traveled around to churches all over and recorded them as they fit into the liturgical calendar, which was how they were written. Fantastic idea, not least because these pieces were intended for spaces like this rather than concert halls in the first place. This twenty-second volume was recorded in Eisenach, Germany, in the church where Bach himself was baptized.
The music writer Alex Ross says that as he was listening to
Christ lag in Todesbanden
— a highlight of the cantata, and of Bach's career, and of classical music, and of the art of humankind — "I pictured Bach's parents looking on at the baptism of the infant and wondering whether he would live. They had no idea."